At Grace we are committed to offering our clients a seamless moving experience, which is why we have partnered with OFX. OFX is one of the world's leading online foreign exchange providers, offering a convenient and competitive solution for our clients who need to move internationally with no fees.
The benefits of foreign exchange transfers with OFX are:
Fee-free transfers above AUD$1,000 for Grace Removals clients
Competitive exchange rate
User-friendly online platform
Expert dealers who can be contacted 24 hours a day
Transparent pricing
Fast, efficient money transfers that can be arranged from anywhere in the world
Secure and regulated transactions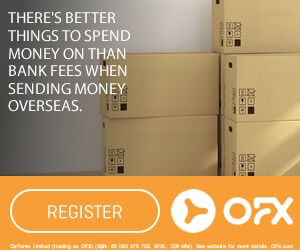 The Australian Securities and Investment Commission (ASIC) have issued OzForex Pty Ltd (trading as OFX) with an Australian Financial Services Licence (AFSL) allowing OFX to deal and give advice in relation to foreign exchange contracts and derivatives.
Testimonials
Overall Rating /
9618

Total 1st-Party Reviews
Grace Removals Group - Sydney
Powered by GetFiveStars
How our satisfied customers rate us
We moved the contents of an overstuffed 2 bedroom house from NSW to Tasmania. Grace were the perfect Professionals. On time, courteous staff, efficiently packed and no fuss. I would definitely use Grace again and…
For Removals - Col, TAS - Product Review
Request a free home visit and fixed quote
Let us call you
We can help with everything to get you from one place to another, and we'll start by putting you in touch with a trusted member of the Grace Removals team.
Locations
Where You Can Find Your Branch