Australia is such a vast country and a land of sweeping plains. Historically, most Australians have called the eastern state's capital cities home, but with housing affordability and the cost of living on the rise, trends can change.
The Australian Bureau of Statistics 2016 Census results show that at the time of the Census, 23.4 million people live in Australia, an increase of almost nine per cent since the 2011 Census.
The majority of Australians continue to live in the eastern mainland states. Almost 80 per cent of the country's entire population live in New South Wales, Victoria, Queensland and the Australian Capital Territory.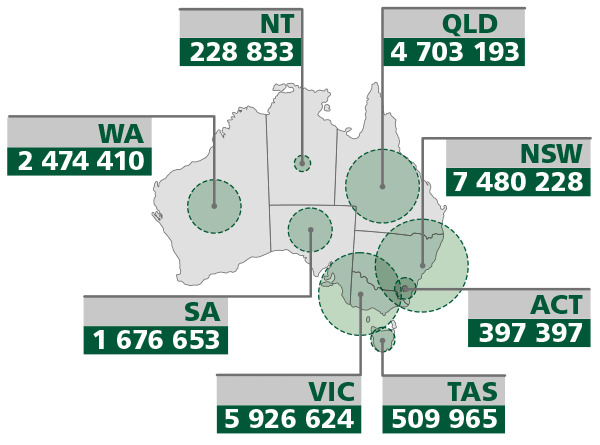 More than two-thirds of Australians live in a capital city, a figure that has grown nearly twice as fast as the number of people living outside the capital cities.
The largest city in the country is still Sydney but Melbourne is not far behind. Sydney grew by an average of 1,656 people per week between 2011 and 2016 while Melbourne grew by an incredible 1,859 per week during the same period.
Types of housing in Australia
The Census also counted almost ten million dwellings across the country, the majority as private households. Almost 70 per cent of these households had one family living in them, almost two per cent had multiple families and almost 25 per cent had one lone person.
Separate houses continue to account for the majority of Australian homes but it did decline by three per cent in the last five years. However, semi-detached, row housing, town houses, flats and apartments increased to make up just more than one quarter of housing.
Dwelling structure and type:
Separate housing – 72.9%
Semi-detached, row or terrace, townhouse – 12.7%
Flats and apartments – 13.1%
Caravan – 0.3%