The Australian Bureau of Statistics' 2016 Census revealed that despite the rate of renting increasing, the great Australian dream of owning a house is still leading the pack across the country. The data revealed that 30.9 per cent of the population rented while 65.5 per cent of Australians owned their property.[1]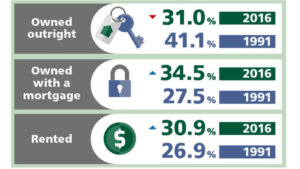 *Rented includes 'Being occupied rent free'
Transitioning challenges
When transitioning from renting to owning, there are a number of challenges that you will face. These include:
Financial changes
Many Australians now own homes with a mortgage which means regular payments are required to keep the property. These repayments will differ from rent as they can fluctuate and depend on your home loan provider. Tax, insurance, repairs and extra bills are also going to crop up when owning your own home. It's important to budget for the things you may not have had to while renting.
Handyman work
When renting, if something breaks there's no need to fix it yourself. Unfortunately, fixing things around the house is going to be something you need to handle on your own or pay for someone else to do when you own your own house. You can expect to spend some money on maintenance, so make sure you budget for this.
Landscaping
Unless your goal is to live in an untamed jungle, you're going to need to take care of the landscaping. Mowing the lawn and gardening are now things you have to factor in to the maintenance of your home.
Making the move
Once you're ready to make the move from a rental property to your own home, it's time to being packing and delivering your belongings to your new house. Packing all of your belongings into the back of a truck and transporting them is going to take time and effort.
Start with packing the things you need into labelled boxes and making a list of any essentials you're going to need for the house. No one wants to arrive at their new house to find kitchen utensils in the box labelled "bed sheets".
Once you're packed up, it's time to move everything from point A to B. If you're struggling to call in the help of friends and family, consider the help of the experts. Grace professionals will pack, load, deliver, unpack and help you set up your new home.
Home ownership is an exciting time and comes with many more responsibilities than renting so remove some of the stress of the situation by using expert removalists like Grace to help you settle in to your new space as quickly as possible.
[1] ABS Census 2016, http://www.censusdata.abs.gov.au/CensusOutput/copsub2016.nsf/All%20docs%20by%20catNo/Data-in-pictures/$FILE/australiaER.html
[2] Census of Population and Housing, 1991, 2016