Grace Information Management have launched their new reporting suite, a unique and comprehensive dashboard designed by Grace to specifically meet the reporting needs of  our major clients.
The new reporting suite can efficiently and effectively monitor and manage information holdings within a single series of dashboards, allowing for complete data integration.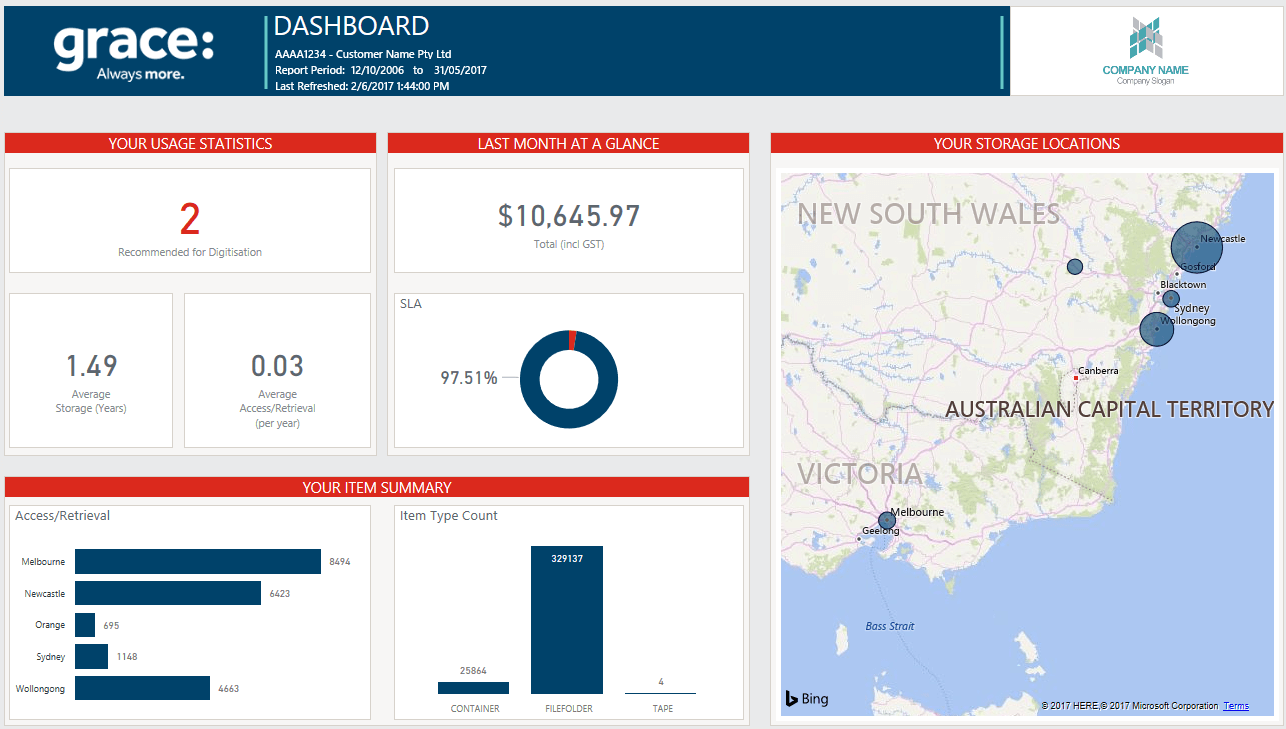 How the reporting suite works
Grace maps out each client's reporting requirements based on geographic and individual business units to establish account configurations. The dashboards are accessible via a password and secured hyperlink which is updated on a monthly basis. The data that is represented shows all information up to and inclusive of the most recent billing month and highlights key details that are of continuous interest to stake holders and decision makers. The information showcased on the dashboards includes:
Your Usage Statistics.This feature allows clients to identify high activity records that are recalled and which could be considered for digitisation.
Average retention and retrieval rates. This feature helps clients identify benchmarks.
Last Month at a Glance which displays the overall expenditure for the most recent billing month.
Your Storage Locations. The map feature highlights the locations the client's records are being stored and provides instant holdings statistics for each location.
Your Item Summary holdings data is displayed in a chart form to show the client the item type they are storing in each location.
The reporting suite allows information on a subaccount level and contains the following reports:
Holdings report
Retreival report
Monitoring of high activity records
Work Order report
KPI report
SLA report
Client user report
Invoice summary and trend analysis
Detailed financial report
The overall reporting pack is highly user intuitive and user training is part of Grace's onboarding program.
40 clients have now been connected to Grace Information Management's new reporting pack with more being added every week. Please contact your account manager if you'd like to learn more.