This is it, your first big art fair and you are overwhelmed. There is so much to do and it feels like nowhere near enough time. How do you get there? Where do you park? How are you going to transport all your pieces? What's your brand? What are you going to wear? What are words and how do you convince people your stuff is worth buying?
First, take a breath. You've got this. You can do it. And you've got friends at Grace Fine Art who are here to help.
So, how do you prepare for your first exhibition or art fair?
Get in Early
Confirm your attendance
Do this as early as possible so you can negotiate the best spot for your work. The early bird gets the worm, or in this case, a good spot that isn't tucked in the furthest corner from the coffee cart.
Look over the event manual
See what size stands are available and be realistic about what you need. There will be a lot of options, but bigger isn't always better if you're working on a tight budget.
Be realistic
I know we all want the biggest and best stand but be honest with yourself about how much space you need and how much money you have to spend. The biggest stand isn't worth it if you're selling small pieces, just like a small stand won't work if you've got large sculptures.
Hopefully you've attended a few events previously, so you have a good idea of where the high traffic areas are. Getting in early means you can get a spot as close to the action as possible.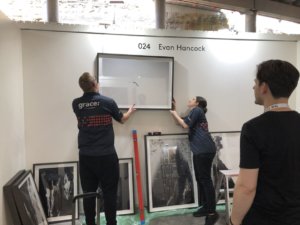 Have a Plan
You've put literal years into this, years of sketching and planning and drawing and plotting. You're starting to hate the thought of putting pencil to paper again because your fingers are so tired. You're looking forward to the adoration of new buyers, you just want to be showered in compliments and have your art appreciated. But you just need to do just one more quick sketch.
Know your space
You've picked your stand and know what you're dealing with, now you need to figure out how everything will look. It's worth drawing a quick mock up display plan so you can block out your space.
Don't be afraid to move things around
If you have space in your home/studio, try setting up your pieces to see how they look together. Maybe those two paintings clash, or that sculpture over dominates your other works. You don't want to be finding these things out on the day of the event.
Factor in furniture
A table and chairs for you and your customers is not wasted space. Not only will you want to take advantage of any chance to get off your feet for a minute, these are good for when you're writing receipts, order forms or taking down details for networking. Think of seats for yourself and your new and future clients.
Ask for Help
Organisers will have a lot of requirements regarding the delivery of your items, from strict schedules through to safety rules, that can make transporting your own pieces difficult. This is made all the harder by limited, and often expensive, parking. Then there's the installation of your works. This is probably going to be your responsibility and can be difficult if you've never set up a booth before.
Know your transport schedule
You will be given a small period of time to coordinate the delivery of your works and get them safely to the venue. Being late, or running over time, can result in some very annoyed organisers and additional costs.
DIY installation
If you are going to put up your own stand and fixtures, be thorough and careful.
Get help
Professionals, such as the team at Grace, have the skills, experience and knowledge to transport your works safely and get them installed to expected gallery and fair standards. They can also provide advice on the day if something isn't working quite the way you wanted, including lighting, the angle of your stand or getting your stand to look like the one across the aisle and three stalls down.
If you're confident installing your own works and stand furniture, we can still help you with the logistics of the event. Our national, and international, network can get your precious works wherever they need to go before the event, and after the event to their new owners.
Once you have everything organised with Grace, all you have to worry about is what to wear and how you'll get there yourself. We'll handle the rest.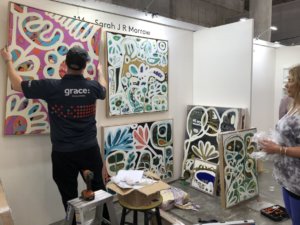 On the DaY
This is it, it's finally here. It's time to show the world what you've got. Your works are installed, everything's displayed just like you imagined. People are showing interest in your style, and maybe you've even had a few sales.
Packing and freight
Do you know where the transport experts are? Companies such as Grace will probably be exhibiting too, and you'll want to know where to point your customers once they've bought your work. Some friendly directions can leave a lasting impression and shows that you're thinking of their needs beyond the sale.
Is your customer a remote buyer, or a serious collector?
Sometimes a spokesperson will attend the fair on the behalf of a remote buyer, serious collector or gallery. These people will want the works delivered to them, so you might have to find a company that can do this safely and quickly. Grace can help you organise this, taking items directly from the fair to your buyer without the worry of double, or triple, handling along the way. We can provide obligation free, transparent quotes throughout the fair so that you, and your buyers, know exactly what to expect.
Event rules
Some events can have some pretty strict rules regarding item handling, receipting and invoicing, you'll need to know this ahead of time to ensure you comply with them. This way you're not causing delays for your clients.
Moving items from storage
You're selling things fast, but now you've got some empty space that is ruining the balance of your stand. If you're storing extra artwork at the event, you'll need to have a pan to get these on display as soon as space becomes available. If Grace helped you with your installation, just find us again to get some help.
All Done!
That's it, you're sold out, it's the last day and you're already thinking about the hot shower calling your name at home.
Getting home
If you have a few stragglers left that didn't find the right home, Grace can help you get them back safe and sound. There will be a pick up schedule, much like the delivery at the start of the event. If you're getting Grace to help, we may ask you to be present while we pack your artwork, so that we know your preferences for materials, volume and sizing. Alternatively, our tailored white-glove packing service can take care of all the hard work for you. Either way, it's important this is discussed ahead of time so that we know exactly what you need.
Packing down
Before you can leave, you'll need to pack down your stand, including the removal of all hooks, nails and hanging items. If you don't, you may receive a removal fee from event organisers.
Keep Us Posted
Keep your fans, and us, up to date with your dealings throughout the event. At the end of each day, or once you're packed up and off home, share your pics with us at @gracefineartau and we will be sure to spread the word of your success too.