Despite the State of Origin rivalry, many New South Welsh men and women choose to farewell their birth state for the warmth of the sunshine state. There are now record numbers of people leaving Sydney and regional NSW and moving to Queensland.
What do the numbers say?
The 2016 Census numbers from the Bureau of Statistics showing interstate migration to Queensland fell to a low of 5,753 in the year to June 2014, but increased to 11,581 in the year to June 2016. Queensland Premier, Annastacia Palaszczuk, has also told state parliament that a massive 15,716 people moved to the state in the year to March 2017, with most of those coming from New South Wales. The Gold Coast also recorded more than 5,000 people arriving from Sydney alone in the past year.
It's not only NSW residents making the move to Qld with Brisbane residents choosing to relocate within the state seven out of ten times. The Gold and Sunshine Coasts record a much greater number of arrivals from Brisbane.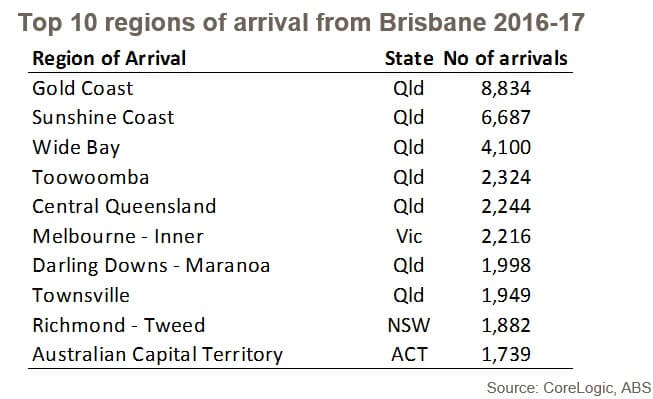 Thinking about making the move yourself? Here are our tips on how to move from NSW to Qld.
Find somewhere to live
Before you make the move to Queensland, you'll need to find somewhere to live. Searching for a house or rental property may take some time, but it's an important step in the moving process. One of the most important things to consider is the property's proximity to the things that matter most to you. If you're concerned about safety, research the latest crime statistics in the state here and if public transport is most important, visit the Queensland Government Statistician's website here.
The best place to start your research for a new home is online at property listing websites where you can filter search results by location, price range, suburb, size and features:
Sell your existing home
If you're renting, you'll need to let your landlord know about your plans to move as soon as possible. When it comes to selling your existing house, it's important to consider the points of process. From choosing the best agent to staging for photos and inspections, there are a number of steps involved in the process. For the best advice and help along the way, finding an agent who understands your needs is the best place to start.
Online property websites have made finding a shortlist of agents easier, collating a database of agents across the country. Find a local agent through online portals at:
Pack and move
It's always best to start packing as soon as you've thought about moving so you have more time to declutter and sort through your things. Don't forget to pack an overnight bag for you and the kids to ensure you have what you need with you on your first night in the new house, without having to open every box.
When packing your home, remember that interstate quarantine prohibits the removal of anything deemed a biosecurity risk. We recommend leaving behind things like plants, animal products and agricultural equipment which may contain contaminants and soil. For more information on the rules and regulations of each state, visit the Australian Government's interstate quarantine website here.
Are you ready to ditch the Blues and become a Maroon? Get in touch with Grace today for a professional removal service. We'll handle your entire interstate move, from packing and transit to delivery, unpack and valet services. For more information on how we can make your Queensland relocation less stressful, contact us today.