GDO HR Recruitment
Providing transparent, efficient recruiting processes with Grace Digital Office (GDO) digital candidate management solution powered by ELO
All GDO Solutions
Free Consultation
GDO HR Recruitment
Providing transparent, efficient recruiting processes with Grace Digital Office (GDO) digital candidate management solution powered by ELO
GDO HR Recruitment offers you professional support in streamlining your recruitment processes.  You can simply and effectively report staffing requirements, accept applications, and conveniently store candidate information in your master HR system or GDO's HR personnel file.
Our platform, powered by ELO, ensures you meet the latest data privacy requirements as set out in the Australian Data Privacy Act, with an automated delete functionality combined with a user-dependent permissions concept, privacy breaches become a thing of the past.
Streamlined and effective recruiting processes:
More efficient system from reporting staffing requirements to onboarding

Useful checklists with configurable reminder functionality

Visible candidate groups and ratings

User-based permissions concept for sensitive candidate data
Benefits of Grace Digital Office - Powered by ELO
Efficient Processes

Compliance

Save Time

Powerful Search

Better Organisation

Transparent Processes

Productive Teamwork
Additional Information
Recruitment Optimised
Staffing requirements reported at a click

Supervisors easily involved

Job description generation

Connect numerous information channels
Useful Tools
Templates and checklists

Integrated calendar and reminder functions

GDO Analytics(powered by ELO) for fast data analysis
Data Privacy
User-based permissions to protect sensitive data

Deletion and retention period compliance

Data encryption for optimal security

Global regulatory compliance(powered by ELO)
Candidate Data Organisation
Clear data locations

Fast Access

Simple data import/export to master HR system

GDO digital personnel file integration
Solutions at a Glance
GDO HR Recruiting provides clear visualisation of the candidate process to ensure a transparent overview, with flexibility to group candidates in relevant talent pools.
Track candidate journeys

Custom ELO dashboards for simple oversight

Create candidate rankings

Easily transfer candidate data to digital personnel files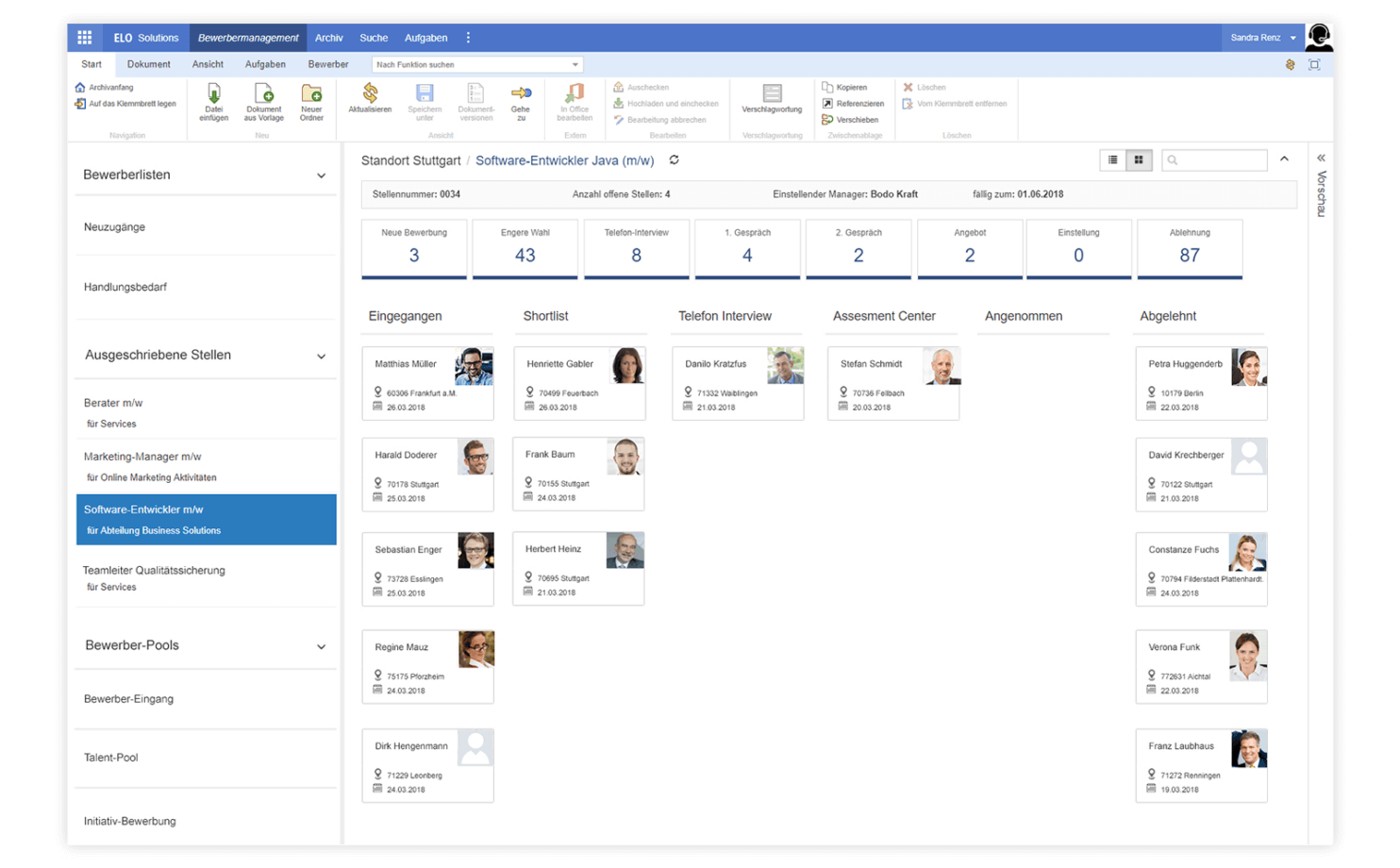 ELO Recruitment Dashboard
Speak to a trusted member of our team
Get in touch
Fill in your details and one of our consultants will contact you. It's that simple.