The Business                       
Ultimate Office Solutions (UOS) is located in the heart of Sydney city and is a boutique size, owner managed SME that offers 5-star facilities in the provision of serviced and virtual offices, co-work spaces and meeting rooms.
Timeframe                          
This project was run over a two-day period, Friday and Saturday.
Completed on 10th June 2017.
Overview                             
Grace worked with UOS in the relocation of their serviced office suites from the fourth floor of a heritage listed building, in Sydney's CBD to their new location in Clarence Street, Sydney NSW.
This project required a careful and concise approach to the relocation of their office furniture and equipment to ensure no damage occurred to the heritage stairwell during the project.
The Grace team provided an end to end service of finely detailed work from building protection through to a detailed move management plan which had to take into consideration that the only access available from the original site was via a stairwell with narrow steps and low ceiling heights.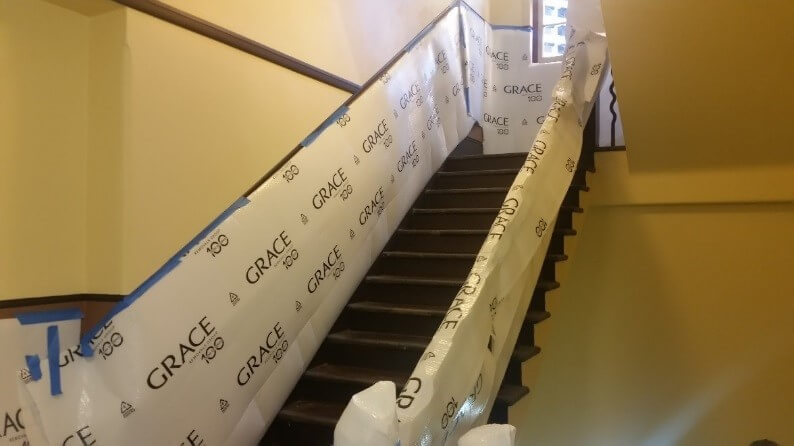 Relocated Items
Furniture and office equipment for 30 serviced office suites.
Highlights
The highlights of this relocation include:
Using strategic project management to provide the relocation of office furniture via stairwell access from the fourth floor. This entailed moving the furniture down several staircases, approximately 100 stairs, in tight spaces
Using effective building protection material and techniques to prevent any damages to the heritage stairwell
Managing and adhering to a short timeline to have the Clarence Street offices operational, resulting in minimal downtime for the client
Overcoming access issues by organising and implementing the use of traffic management on footpaths and loading zones to accommodate the use of street access at both sites to load and unload
The Result
Our superior building protection combined with our ability to establish clear protocols and pre-move planning processes ensured this project's success by safeguarding the heritage listed premises from damage, as well as maintaining people's safety when loading and unloading via street access. Our experienced, dedicated and well-resourced staff ensured that this project stayed on time and budget.
For more information on Grace's office solutions, speak to one of our dedicated Business Services consultants.