The Grace FF&E (furniture, fixtures and equipment) teams have been keeping busy over 2019, just the way they like it. As the business grows and expands, 2020 is already shaping up to be a big year.
Retire Australia
Operating 27 unique retirement villages across the country, Retire Australia establishes warm and welcoming communities for our elderly to experience freedom, choice and support in their twilight years. The Grace FF&E  team was entrusted with the task of delivering and installing a range of items for the new aged care facility based at the Glengara Retirement Village in Tumbi Umbi, New South Wales.
The FF&E team was responsible for the receipt of in excess of 200 line times of equipment and furniture, utilising RF scanners and barcode technology to produce real time reports regarding stock numbers and locations within our warehouse. This included the coordination of approximately 250m3 of furniture, received from over 20 local suppliers, allocated to nine shipping containers for storage and delivery.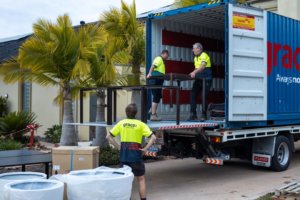 Given a week to coordinate the project, the team managed to deliver, unpack, unwrap and place two to three containers of equipment each day. With some minor install works also required, a Grace Installer worked across the project to ensure equipment was both placed and correctly installed for immediate use. Following the delivery and installation of the items, the team completed a trade clean of the premises, including the removal of all packing materials for disposal and recycling.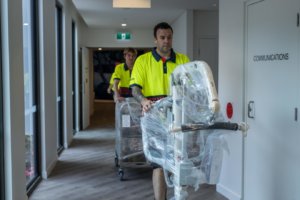 The use of RF scanning technology and barcode labelling ensured there was an up to date and accurate account of the various products arriving, being stored and leaving the Grace warehouse. As items were being delivered within a two month period prior to the fit out from a range of suppliers, it was vital that the manifest was correctly loaded into our stock management system and products were scanned as they were received, ensuring Grace and Retire Australia maintained clear oversight. This also allowed Grace staff to provide accurate locations for all products received as necessary.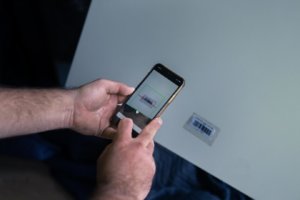 Due to the high volume of goods from a variety of suppliers, Grace experienced issues with products not being labelled accurately or in line with the serial number and item descriptions within the Retire Australia manifest. This made it difficult for onsite staff to identify and correctly place items according to Retire Australia's needs. However, the use of our barcoding and scanning stock management system allowed staff to scan the label of each product, enabling identification and then correct placement.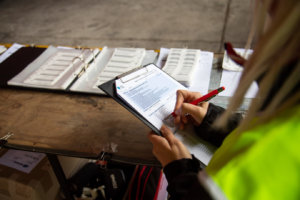 As Grace provided a comprehensive service, from product receipt through to scanning into our stock management system and delivery to site installation, ensured Retire Australia received smooth project delivery. Grace was able to deliver this project ahead of schedule and under budget without sacrificing quality, ensuring a positive result for Retire Australia.
To find our more about how our FF&E services can assist your business with our turnkey solutions here.