Our Information Management branch had a very busy year, providing effective solutions to our clients, attending numerous industry events and welcoming new customers, all while preparing for the launch of our newest digital solution, Grace Digital Office.
New National Standards
As of October, the National Archives issued new Scanning Specifications, changing the requirements for the digitisation of records. While there is a transition period until December 2020, in which lower standards of digitisation will be accepted, Grace have immediately moved to implement these new requirements.
Records will now be scanned in either Greyscale or Colour as bi-tonal is no longer accepted. Any customers affected by the change will not notice any difference, as Grace have updated our processes to reflect the new standards.
ePlan Room Project
A major project for the Information Management team this year was for the Queensland Department of Housing and Public Words, Building and Asset Services. As a long time partner of the Queensland government, providing a range of information management services, Grace has been holding a large backlog of building drawings and plans for a period of time. Unfortunately, many of these hasn't been correctly captured in their records library or electronically captures in their electronic document management system (EDRM), ePlan Room. ePlan Room is a custom EDRM designed specifically for the storage of large format plans, associated building documentation and metadata.
Given the amount of infrastructure projects happening at any one time in Queensland, having these plans easily accessible and locatable was a priority. So, applying our records management expertise, the Grace team prepared to process 4,050 large boxes, each containing approximately 250 records. With an estimated million drawings to scan, all of which needed to be catalogued to the appropriate department, with 20 possibilities. It was thought around half of them were already in ePlan Room, leaving the department without electronic copies of up to half a million drawings.
As there were thousands of different document types, with many styles and inconsistencies, a portion of the documents were in poor condition and the unstructured nature of the documents made automating metadata impossible, it was important to develop an agile approach to the project. As links to different departments were being discovered with each document, and many plans falling outside of established allocations, the team had a big job ahead.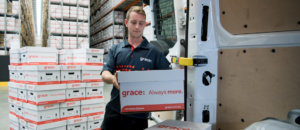 Lucky for Building and Asset Services, the Grace team like a challenge. Starting with a smaller pilot project, involving only 30 boxes over six weeks, we developed a plan of attack for the rest of the boxes. From this pilot, Grace devised a 16-month plan, created a dedicated 350m2 project area in our custom-built records management facility at Willawong and acquired three additional large format plan scanners. A project team of 15 worked through a logical and efficient workflow to process the remaining 4,020 boxes.
Roughly 1.42 million plans were found, sorted and assigned to relevant departments, all of which now have a unique identified for ease of access in future. Almost 325,000 plans were digitised and uploaded to ePlan Room and a bulk upload tool was developed concurrently to aid with the transfer of these files and their metadata. Grace also sourced custom built boxes for the project, replicating older style boxes that had since fallen out of production to maintain consistency in the method of storage.
Records of historical value were found within the archive and transferred into the possession of the Queensland State Archives.
Overall, the project was delivered on time and under budget, despite the quantity of boxes was 43% larger than initially anticipated. Various Queensland departments now have access to these records, which will support their own operations and the quantity of records and metadata within ePlan Room has nearly doubled. The Department of Housing and Public Works now has a completely accurate, catalogued record of their physical storage holdings of large format drawings and plans, meaning should there be a requirement for a physical document retrieval it could be pinpointed within minutes.
Events
Grace Information Management has had an incredibly full event calendar this year and looks to continue our success at these events in 2020. Some highlights from our calendar included:
RIMPA Live
Records and Information Management Professionals Australasia (RIMPA) held their fiftieth annual Live Convention this year. As the event of the season for information professionals, Grace was proud to offer coffee to attendees again this year.
Our very own Director, Information and Records Management, Michael Hyland, was in attendance, ensuring our network was aware of the upcoming launch of Grace Digital Office.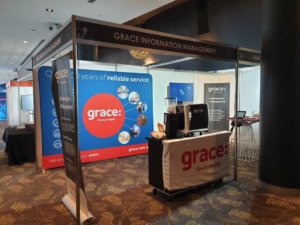 MAV
Grace hosted the Municipal Association of Victoria (MAV) to demonstrate our Grace Digital Office. The Grace Digital Office (GDO) is designed to optimise information management and data storage for a wide range of industries and organisations.
As custodians of our customers critical information, we were extremely pleased to host our valued local government customers and share with them how Grace's new innovations to our digital solutions can add additional value and assist them in the development and execution of their digital transformation strategies.
Dean Beatty, General Manager – Digital Solutions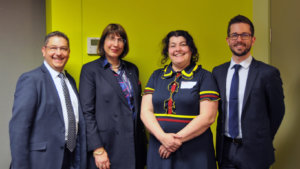 Our Information Management team were proud to demonstrate the capabilities of GDO in giving public, private and Government organisations a central hub to manage and access data and documents. Through intuitive systems, digital scan on demand, mailroom and simple document retrieval, GDO streamlines and automates processes.
The event was a resounding success … Through discussions with our customers the GDO Enhanced Scan on Demand was born – providing an end-to-end service that [is] secure, compliant but most importantly – [provides] enhanced file formats to ensure the information [is] reliable, authentic, accessible and usable. Through discussions with attendees it was clear that Grace are taking a collaborative approach to solving the unique challenges in local Government.
James Nutt, National Digital Solutions Manager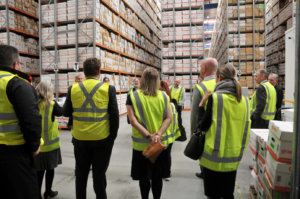 General Manager – Digital Solutions, Dean Beatty and National Digital Solutions Manager, James Nutt showed how GDO meets the needs of local government in particular; demonstrating solutions to common challenges and our ability to adapt the system to focus on productive activities. With a focus on classification and cleansing of data, GDO eliminates redundant, obsolete and trivial (ROT) material to ensure only value adding business information is stored.
When asked about what GDO Digital Mailroom means for local government, Desi explained that, "One attendee, who is using a digitised inbound mail automated service, mentioned that three years ago she was scared of the impending digital change and now she cannot imagine going back to the manual mail processing she and the team used to do. She also finds her current work far more interesting, responsible and fulfilling."
Future of Finance & CFO Summit
Exploring major opportunities for Finance Upskilling, Automation and Transformation Roadmapping, Grace attended with representatives from both our finance department and the Information Management team. There, they were exposed to leading digital strategies and target operating models designed to support finance transformation, as well as methods to enhance data driven decision making and business partnering capabilities.
Grace collaborated with ME Bank and Monash University to deliver a range of automation masterclasses, including on achieving ROIs of over 20% and how to win back countless days from the trap of transactional finance. Additional keynote speakers included CFOs from Macquarie Group and the Bureau of Meteorology, discussing leading effective change management and gearing up finance teams for new ways of working.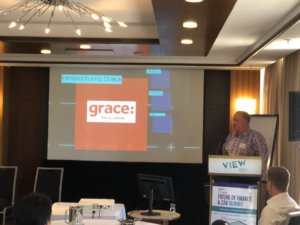 Our Information Management team were proud to showcase our approach to automating the finance function nationally, including through the use of our Grace Digital Office suite. As we're implementing our own system, showing its quality and ease of use, we're able to demonstrate how we're reducing process steps from an average of 19 down to just seven. Rather than an invoice taking approximately 25 minutes to process, we have it down to under five minutes while also improving accrual accuracy, effectively matching invoices to orders, eliminating duplicate invoices, radically reducing data entry errors (to nearly non-existent), removing GST errors and improving reporting, all at once.
We're pretty proud of our Grace Digital Office solution and look forward to discussing how it can help your business in future.
To keep up to date with all of our Information Management news, be sure to visit our blog.