The Grace Mobility team continues to support our clients and their employees in relocating both nationally and internationally. The year culminated in the first annual TEMI Gala. The Employee Mobility Institute (TEMI) is Australasia's foremost community-based network of Global Workforce Management professionals, solely focused on supporting individuals and organisations develop and grow their cross-border talent management capabilities.
Grace works with Crown 
Earlier this year, Grace was thrilled to be awarded the mobility and contract operational service delivery account for Crown, making them one of our largest key accounts alongside Toll.
When asked about the success of this new account, Key Account Manager, Michael Griffiths said, "In our first full month with a new team, we had a massive month completing just over five hundred and five removals and initiations. On top of this huge number, we also introduced and implemented the Grace Portal with Crown, which assists our clients by streamlining our processes on both sides with move creations and visibility of operations as well."
Team Grace has continued to go from strength to strength with our Mobility division working hard alongside our other integrated service offerings to offer a holistic experience for all our clients.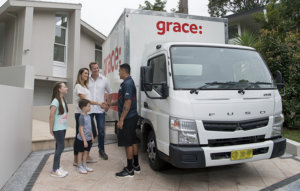 A Growing Mobility Team
With our business growing, Grace Mobility welcomed several new appointments. In the newly created role of General Manager – Grace Mobility, we welcomed Jane Riley to our team. Jane joins our team with a wealth of experience in the removals and mobility industry and a proven record of strong and strategic success. We have also appointed Michelle Bingham to the role of Mobility Services Manager, Michelle's history with Grace speaks for itself, during her time with us she has proven her immense leadership capabilities and played a key role in developing our market leading assignment management solution, MAI Assignment.
Grace is currently looking towards our 2020 operations and will continue to grow our teams in the coming year. Stay tuned for more opportunities in this space, shortly.
TEMI Gala
Over a hundred employee mobility practitioners and partners attended the event, representing some of Australia's largest employees. This celebration included award presentations, a luscious three-course meal and entertainment from Melbourne's own Tim Campbell.
Deborah de Cerff, TEMI founder, described the awards as the first to be held in Australia for the Australasian talent mobility community, ensuring they no longer needed to travel offshore to receive recognition. As competition for talent grows on a global scale, the role of mobility is becoming more and more important to companies across Australia and overseas.
Grace were a proud platinum sponsor of this event, with our own Steve Korcz, General Manager Sales, presenting the highly coveted Champion of the Year award to Ashley Croxford from Arup. We look forward to supporting, and attending, this great event next year and into the future.