It was our great pleasure to host board members from the Australian Dysphonia Network Inc at our Grace Head Office on Tuesday April 16th, World Voice Day, and celebrate their receipt of a $10,000 Grace Gives grant.
On the day, Board Members Gregory Davis, Lyn White and Louise Bale travelled from all over Sydney and NSW to our Head Office and were presented their $10,000 by Grace Managing Director Steven Brown and General Manager – Digital, Dean Beatty.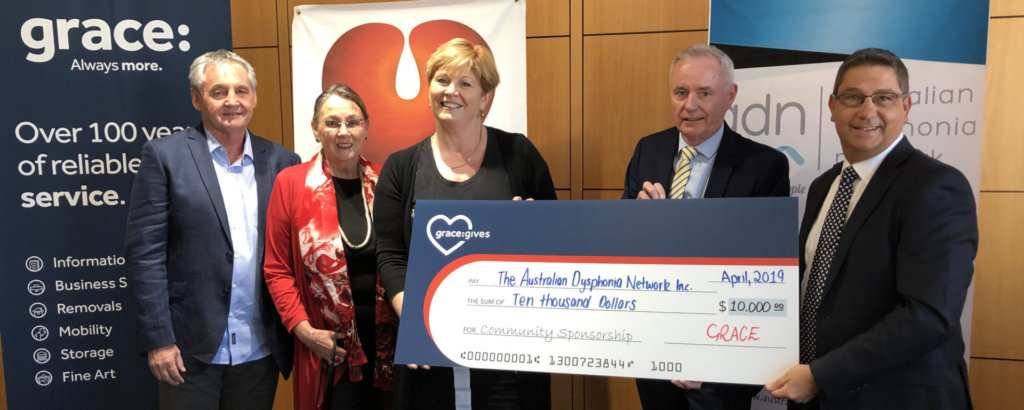 A short presentation was given by Emily McLeod, the Grace Gives coordinator; she spoke about being excited that the program was able to support The Australian Dysphonia Network Inc (ADN) in 2019.
Emily said she "was humbled to have learnt about the wide range of voice and speech disorders that fall under the category of 'Dysphonia', and the amazing work that the Australian Dysphonia Network Inc was undertaking in the general and medical community to raise awareness around diagnosis and patient support."
"One of the most rewarding parts of Grace supporting organisations through our annual Grace Gives programs is that our company is able to channel our hard work towards supporting the people who are qualified, skilled and dedicated to assisting and making an impact in our communities across Australia," she said.
The Grace employees then had the privilege of hearing Louise Bale discuss what the company's support meant to her and the ADN. She spoke of the difficulties that many Dysphonia sufferers face in seeking proper diagnosis, support and treatment and how the Grace Gives grant will aid in the creation of an educational video to be used in medical training, staff development and awareness campaigns across a range of medical practices and hospitals.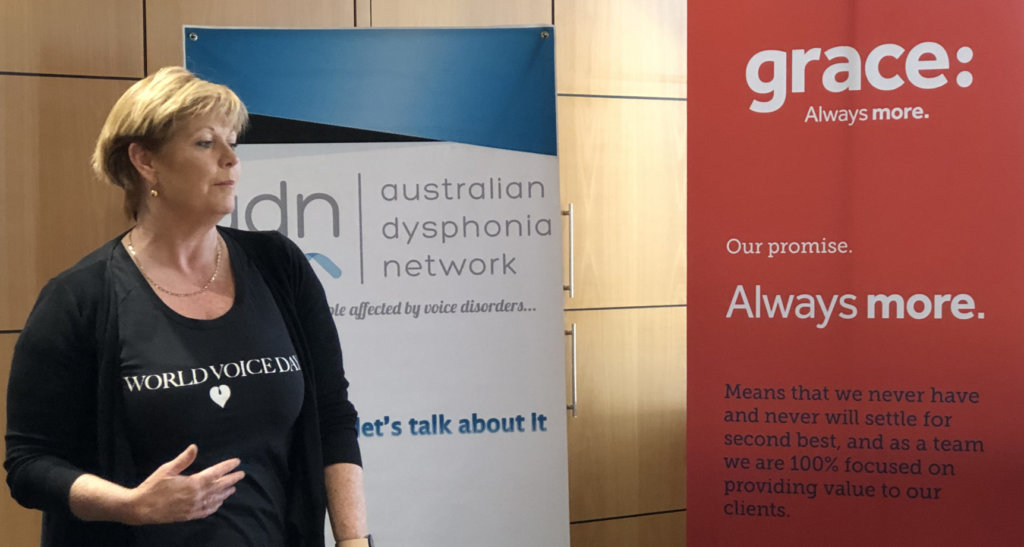 Louise was incredibly passionate when she spoke about the many Australians who find themselves silenced by their voicelessness. Louise explained that "life with a broken voice means that a person is unable to be heard easily, they are sidelined from conversations, overlooked in a crowd and often forgotten.  Relationships suffer, work is frequently impossible and depression is common; but The Australian Dysphonia Network Inc, are determined to change that."
It was a wonderful afternoon and Grace is incredibly thankful that Louise, Gregory and Lyn took the time to celebrate with us on World Voice Day 2019. The whole company is behind them in their efforts to bring a voice back to the voiceless.
If you would like to learn more about The Australian Dysphonia Network Inc please visit their website here.