It was our great pleasure to be hosted by Girl Guides Australia – Queensland at their Guide Hut in Wynola Park, Coorparoo earlier in April, to celebrate their award of a $10,000 Grace Gives grant.
Scott Bartram, Regional General Manager – Northern for Grace Removals and James Cutts, Northern General Manager for Grace Information Management, were able to present several young guides and Velia Nicholls, Guides Queensland State Commissioner, with their $10,000 Grace Gives grant.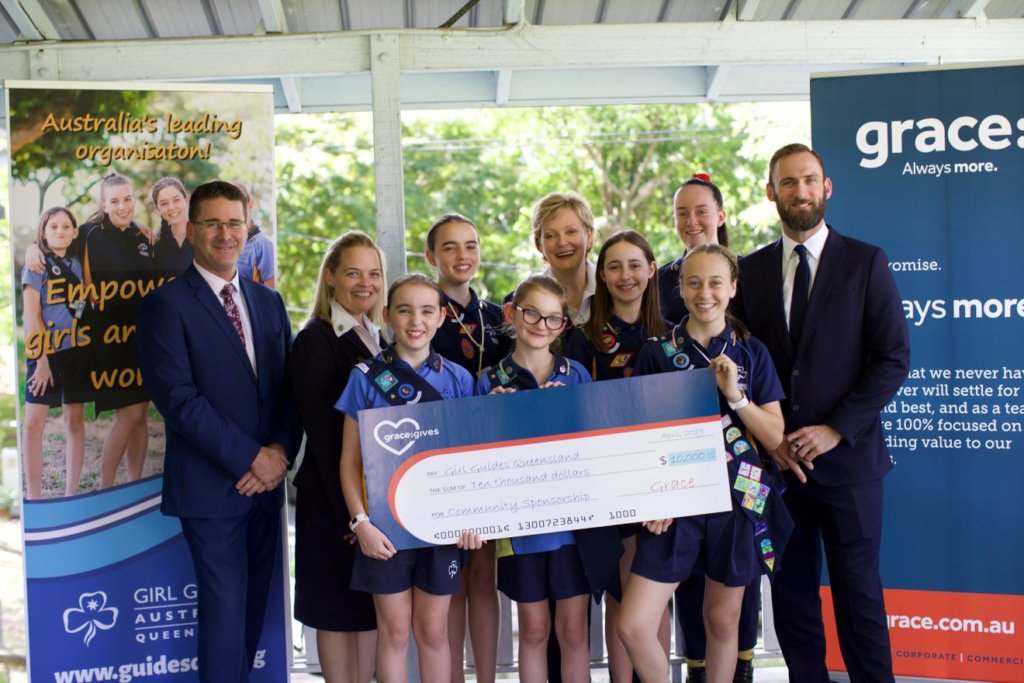 While there, Scott and James were able to learn more about the guides and their plans to celebrate their centenary year, such as the Biscuits for Business campaign which hopes to sell 13,000 cartons of biscuits to support the Girl Guide program and the young women who are part of it.
Scott and James were even lucky enough to be among the first recipients of these cartons and both reported that they were indeed delicious.
When meeting with the Girl Guides Australia – Queensland team, Scott and James were able to find out more about how their Grace Gives grant is going to assist young women in the greater Queensland Community.
With the help of their Grace Gives grant, up to twenty young women from disaster affected areas will have most or all of the cost of attending the 2019 Trailblazers Centenary Camp subsidised. As many of you know, Queensland has seen more than its fair share of natural disasters in recent months and many families are battling to recover, let alone be able to afford travel and camp expenses for their children.
Thankfully, Grace is able to assist in our humble way through the wonderful work of the Guides network and ensure that these young women are able to attend the celebrations and learn valuable life skills, resilience and the benefits of mateship. Some of the activities the young women will be able to enjoy include abseiling, water sports, climbing the high-rope elements and having a go at the flying fox.
We can't wait to hear how the camp goes for all involved. If you would like to be part of this wonderful event or learn more about Guiding in Queensland, visit the website here.