With over 100 years' experience in the removals industry, Grace has learnt a thing or two about hard work.  However, we are still amazed at some of the efforts community organisations go to in order to make our country a wonderful place to live.
Recently, one of our Grace Gives Australia 2019 recipients, Girl Guides Australia – Queensland, needed some assistance in moving 13,000 cartons of biscuits in preparation for their Biscuits for Business campaign.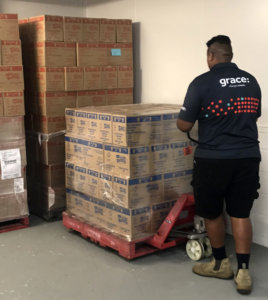 Grace was more than happy to go the extra mile and lend a helping hand for the day. Removalist Allan 'Al' Villie was able to help with the huge task of moving the cartons ahead of the campaign launch.
Al was amazed at the effort the team was putting in for the centenary celebration campaign and can't wait to grab some biscuits for himself.
Be sure to support their campaign by purchasing a carton here.