The Grace motto of Always More is something we like to prove in our day to day actions. It's more than a service promise, it's how we approach our customers, our staff and our community. For the staff and students at Sandringham Primary School Always More, it was the willingness and ability to put together a disaster recovery crew together on a Saturday afternoon.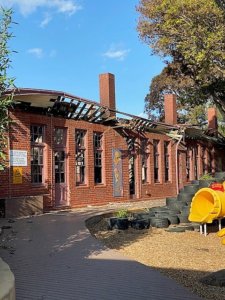 Ian Silk, Branch Manager – Business Services, received a call Saturday explaining that youths had petrol bombed the historic school on Friday night and that the library and staff areas had been destroyed with about half of the school's class areas also affected. At 165 years old, Sandringham is one of Victoria's oldest primary schools and it's the beautiful 19th century buildings that have borne the brunt of the flames.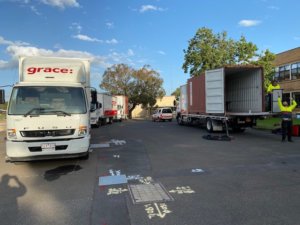 Jumping straight into action, Ian coordinated with Alex Marshall, Customer Service Manager, to put together a team of four trucks and 15 crew members to collect donated furniture from other local schools and relocate any undamaged furniture and goods from the primary school. While Alex organised the team, Ian conducted a site inspection to ensure all safety requirements were understood and communicated.
Our team was keen to get started and were on the ground at the school from 7am Sunday morning, sacrificing half their weekends to label, inventory, pack, relocate, unload and unpack approximately 350m3 of classroom furniture and contents. Over the space of 15 hours, the team worked closely with the community as parents and kids helped in unpacking and unloading.
The displaced kids were able to be back at school and learning on Tuesday, now at Sandringham East Primary and Sandringham Secondary, which share a boundary. In the Australian way, families and school communities have banded together and made concessions, including some students starting their days a little earlier to stagger the impact of additional cars and part of the high school's oval being used for parking. The children housed at the high school are able to join their peers at the primary school during lunch and recess, meaning new friendships are being made and a little good can come from the destruction.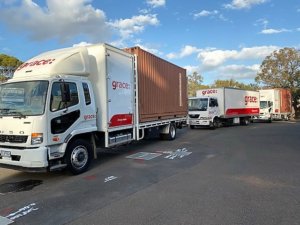 For Grace, the project is still ongoing as all unused, undamaged furniture and contents are being placed in secure storage at our Hallam facility. We'll continue to hold these items until reconstruction and repairs are completed, at which point we'll deliver them back where they belong so that the kids can return to their school as soon as possible.