Charity group Cherished Pets Foundation received one of five Grace Gives Australia grants in 2017 and have used the funds to continue to spread their message of gratitude.
Cherished Pets is a unique, award-winning, social veterinary enterprise on a mission to support the companion pets of vulnerable people. The charity assists elderly and disabled pet owners with their signature home pet care service, helping to keep their pet healthy and happy.
Pets also connect communities which is something that Grace are passionate about. Grace are proud to support the work of Cherished Pets with a $10,000 Grace Gives grant which will help Cherished Pets continue their work and expand their services to keep more pets and people in the Geelong community happy and healthy.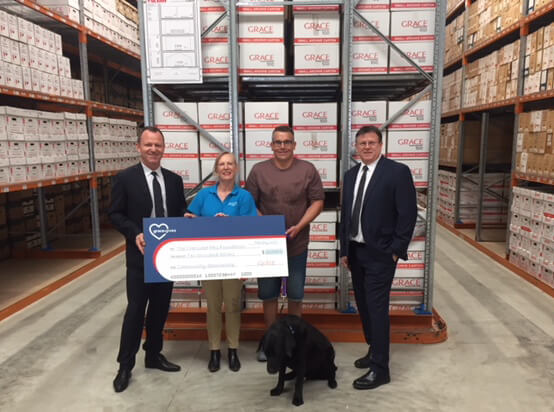 Grace's Southern Regional General Manager for Grace Removals, Steven Korcz, and two of our Grace Information Management representatives: Southern Regional General Manager, Nick Buxton, and Business Development Manager, Stephen Dezelak, were thrilled to host Cherished Pets Community Veterinary Care's Dr Alicia Kennedy and Natalie Davey. Grace were also privileged to meet Geelong community member, Adam Knapp, who has been assisted by the Cherished Pets Foundation, and Jet, Adam's beloved friend and star of the hour.
For more information on Cherished Pets Foundation and the work they do, visit cherishedpetcare.com.au.